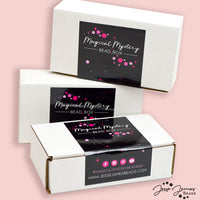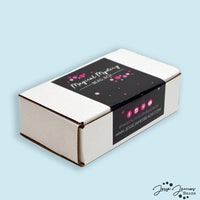 Magical Mystery Bead Box Subscription
Regular Price

$49.95
Sale Price

$49.95

Regular Price
Unit Price

per
How It Works
What to expect when you become a subscriber.
FAQ
Frequently Asked Questions about the Magical Mystery Bead Box.
Q: When do I get my first box?
If you signed up before the 1st of the month, you will get that month's box. All boxes ship on the 3rd week of the month. For updates on boxes, shipping times, and behind the scenes looks at the making of the box, join the Magical Mystery Bead Box group on Facebook.
Q: How do I upgrade my subscription box?
If you'd like to switch your current plan, send us an email at hello@jessejamesbeads.com. Typically we recommend customers wait for their previous subscription to end before upgrading to a new one. If you are towards the end of your subscription we can assist in getting you set up with a new subscription when it's time to renew.
Q: Are there tutorials for this box?
Our ambassadors post tutorials for the Magical Mystery Bead Box each month, PLUS we do a special Create-A-Thon every month with the previous months box. These create-a-thons are livestreamed to our Facebook and YouTube pages. To see all the tutorials for Magical Mystery Bead Box, check out the JJB blog.
Q: Can I skip a box?
Yes! You can ship a box for whatever reason by going to your account page and scrolling down to the Subscriptions tab. If you have any trouble skipping or editing your subscription, feel free to contact us at hello@jessejamesbeads.com.
Q: Will my subscription automatically renew?
Yes, all MMBB subscriptions will renew automatically on the first of the month. If there are any issues with your renewal, you will get an email letting you know to update your payment information. If you do not want your subscription to renew, please contact us at hello@jessejamesbeads.com
What Customers Say
Check out what our subscribers have said and created using the Magical Mystery Bead Box! Join the group on Facebook for more info and reviews.
I love the Magical Mystery Box!
I love the Magical Mystery Box! I wait each month to see what the theme is going to be, and I am never disappointed. I swear each month the boxes get better, there are so many beads and they are always sending cool Chain or other findings that go perfectly with the beads you got. I would say they have a very creative staff at JJB to be able to come up with so many ideas for the monthly boxes. My favorite part of the MMBB is the suspense waiting for it to come and opening it to discover what's going to be waiting for me. If your not a subscriber I say try it for a month, You will love it!
Love Them
I cannot wait for my bead box to arrive each month. I am NEVER disappointed. That is why I changed from a 6month subscription to a 12 month. Cannot praise you enough!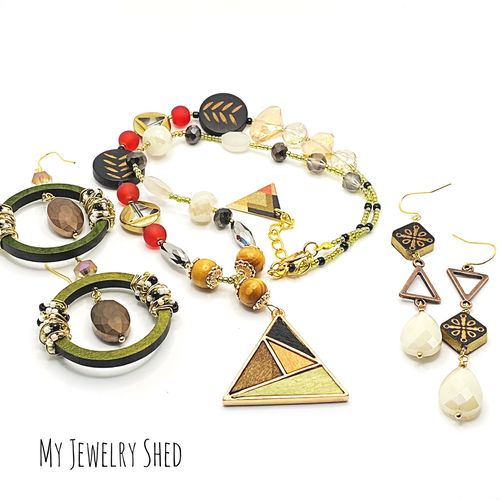 Love This Month's Box!
I absolutely love this months box! It reminded me so much of my skiing days in Lake Tahoe Ca! I loved the shapes of A-Frame cabins and Mountain peaks!! The colors of nature!!
What I love about Jesse James beads is they are different.
The staffing that designs these mixes are creative and have an eye for mixing colors and metals which makes their beads unique. I have begun to put colors and different styles of beads together making some very beautiful pieces. I get many compliments on my jewelry and ask where I bought them at. I tell them that I make my own jewelry. Friends and colleagues always ask me how much I would charge to make them a set. I let them know that it is a hobby and where they can find bead. Thank you Jesse James Beads, not only for the beads but the tutorials that you and the designers offer. I have learned alot about jewelry making.
Can't Wait To Get Each Month
Can't wait to get the MMBB each month. Such good value and excellent quality. Always an exquisite surprise when I open the box. Makes me so happy. Love, love it. Thanks Jessie James for the great service and beautiful beads.❤️💕💖😍
Check Out Previous Months
Not sure if you want to subscriber? Check out the single boxes availble to purchase! These are left over boxes from our subscriber send out. Available only while supplies last.
Additional Info
Magical Mystery Bead Box subscriptions are set to auto-renew. Please set a reminder for yourself to cancel prior to your renew date (1, 3, 6 or 12 months from your signup date). To upgrade your subscription please wait for the current subscription to end, cancel your previous subscription and sign up to the new plan you'd like. Contact our support team if you have trouble.

If your account has auto-renewed and you wish to cancel, please contact hello@jessejamesbeads.com within seven business days. Any cancellation after the seven business days will need to be store credit. Returns or Store Credit requests over $100 need to be approved by management. 
Deadline to sign up for the current month's box is the 1st of the month. Any signups after the 1st will recieve the next month's box as their first box.
All Boxes ship on average between the 15th and 30th of the month depending on supply chain delays. We try to ship out boxes as soon as we can in order to delivery high quality inspiration to you!
Delays will be communicated through email and on the Magical Mystery Bead Box Facebook Group
To skip a month or put a box on hold, go to your account page, at the very bottom will be a "Subscriptions" tab. That link will allow you to make edits to your subscriptions. If you have questions, contact our customer care team for help.

We cannot accept returns, regardless of whether the box has been opened or not. We appreciate your understanding as this is a very specially curated and quantity calculated subscription process

If you receive a damaged item or something is missing from your Mystery Box, please send us a photo to hello@jessejamesbeads.com. We will be happy to ship you a replacement!
Please note a request to cancel your Magical Mystery Bead box will cancel the AUTO-RENEWAL of your box, it will not cancel any boxes that are already paid for. We cannot provide refunds for subscriptions due to our subscribers getting heavy discounts on the items and the boxes being pre-paid for several months.
Boxes cannot be cancelled mid-subscription. In order for us to offer our subscription customers the best prices possible for the beads and components, we need to be able to have a consistent count on how many boxes we are to produce each month. If you have questions about this please contact our customer care team: hello@jessejamesbeads.com